Social media platform, Twitter went haywire following Television personality, Nana Aba Anamoah's question to President John Mahama at the Tuesday media encounter.
The devout Manchester United fan sought to find out what the president would describe as the biggest headache as president and how he manages to ease pressure.
"What keeps you awake at night?" she asked the President who replied, "I hardly sleep…God bless me with sleep. I'm a


The most stupid question of the day goes to Nana Aba #MahamaSpeaks

— Jeezy Sarkcess (@frederickboate5) January 12, 2016

good sleeper…If anything keeps me awake, it is just how to make this country a better place."
Some people have taken a dislike to her question. According to them, her question was totally irrelevant.
Maybe I am stupid but I honestly have no issues with Nana Aba's what keeps you up/awake question. (1)

— Salma (@AmaTuffet) January 12, 2016
What a stupid question from Nana Aba. You actually won the dumb question of the day #MahamaSpeaks

— Kwadwo Adu- Amankwa (@AmankwaK) January 12, 2016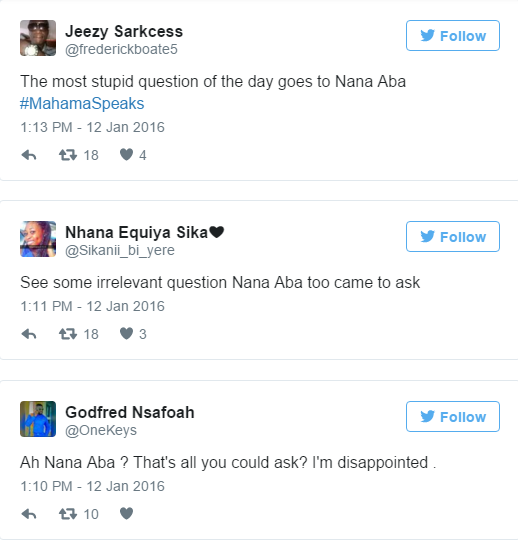 However, others have commended her question arguing that the country is currently experiencing many challenges big enough to keep the president awake at night.
Meanwhile, Nana Aba has reacted to the critics through the same medium.
So what do you think? Was Nana Aba Anamoah's question necessary?
EnterGhana.com | Credit: Abrantepa.com | Nana Aba Anamoah gets attacked for asking Mahama "unnecessary" questions
Have a say. What do you think? Drop comments!