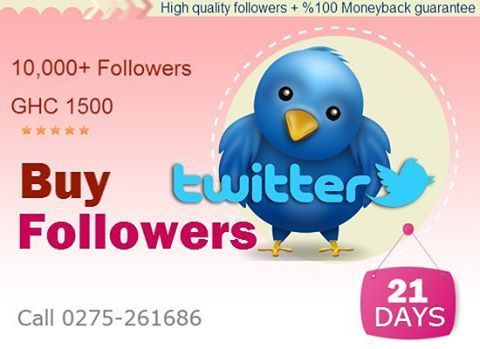 Ever wondered where you could get high quality Twitter followers who engage in your posts by re-tweeting or even liking your tweets? Well that is very possible, even in Ghana. We have a proven methodology which actually works, providing our customers with a very high number of followers from all around the world, who will be re-tweeting and liking your tweets of interest.
Our packages are also very affordable, and we offer refunding of your initial deposit, if we are not able to meet your demands within the expected period.
We also guarantee you that followers provided will not un-follow you, as we have a one year retention guarantee. In fact, we'll sign a written contract before work begins, as a form of assurance. One should note that we've worked with numerous celebrities or brands, and will not list them here, due to confidential reasons.
Below is a list of our packages:
2,500 followers- GHC 300 (less than 7 days)
5000 followers- GHC 500 (less than 10 days)
10,000 followers- GHC 1,000 (2 Weeks)
25,000 followers- GHC 2,000 (3-5 Weeks)
50,000 followers- GHC 3,500 (4-6 Weeks)
100,000 followers- GHC 6,000 (8-12 Weeks)
Ready to gain followers? Call us on 0275-261686
Why Do You Need Twitter Followers?
Reputation on Twitter is based around the amount of followers that you have. If you have tons of followers then people will see you as a rather decent company to follow. If you have barely any then people will look elsewhere. This is where our service comes in. We will provide you with lots of followers who will in turn lead to even more followers, sharing of content, and of course money in your pocket.
EnterGhana.com | Get 25,000 Twitter followers in a month, even in Ghana
Have a say. What do you think? Drop comments!